UPDATED: in August 2017, added my new favs to the list.
Athens has in a short time become as my second home.
Two of my closer friends, and members of Da Shogunz (the Hip Hop label I've been co-managing), both re-located to Greece. Me loving my crew and exploring new places alike, it couldn't take long for me to go visit.
As summer holiday came around and school allowed me off, I seized this as the perfect opportunity to launch a month-long getaway to Greece, and mostly Athens. I invited along my beloved queenfriend Bibi, and we had the most magical and dream-like time as we seemed to meet the most kind-hearted people, eat the most nourishing meals and see the most astonishing views, continuously.
By winter break, we went back to celebrate New Years. Completely different vibes and snow for the first time in 10 years of Athenian history, but it was super chill again. In summer 2017 I went again, for 6 weeks this time. Is it obvious? I'm fucking hooked.
Something about the vibe in this city gets at me.
The contrast between its rich history and deprived contemporary; between the polished and protected Monastiraki and the anarchy-ruled Exarchia; between the lacking ability to speak english, but abundant means to welcome you anyway. And then there's the tzatziki, the moussaka, the periptero's, the rake's, the temples, the alphabet, the parks, the sun and the water. Maybe it's just something in the air.
Stating the obvious: I love Athens, and want to share some of my personal favorite spots in the city with you. These are none of the usual suspects (which are also lovely, but I reckon you can find in a 10-min google sesh) but rather a collection of my own hotspots in the city.
Without further ado:
20+ of my personal favorite spots in Athens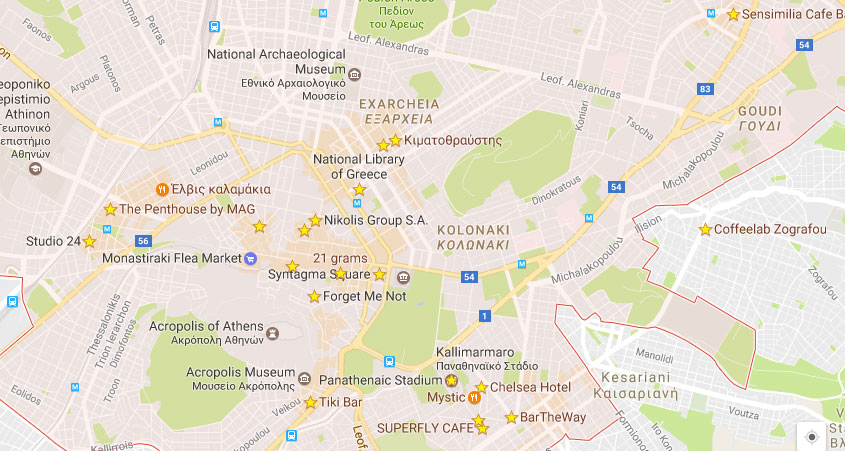 Monastiraki – Plaka
• Forget Me Not (100 Adriannou St)
This is hands-down the cutest shop in town with all sorts of design items, gifts and original souvenirs.
• Impact Hub (Karaiskaki 28)
If you're looking for an inspiring and spacious co-working space, mingle with the entrepreneurial community at the local Impact Hub.
• Six Dogs (Avramiotou 6-8)
The backyard bar at Six Dogs is everything. Perfect place to cool out with home-made watermelon juice and greenery all around you.
• The Art Foundation (TAF) (Normanou 5)
– bar on the picture (from this The Travel Porter article with more great bars in Athens)
TAF is a bomb coffee and cocktail bar with mini exhibitions around and a small but beautiful shop. So easy to miss if you don't know about it.
• Poems 'n crimes (Agias Irinis 17)
Another art bar for either drinks or daytime coffees and reading.
• wander-abouts in Monastiraki + Plaka
If you exit Monastiraki metro stop, you're right at the heart of the centre from where you can roam freely around Monastiraki and Plaka, the 'old city'.
• Syntagma Square & Parliament (Pl. Sintagmatos)
Syntagma Square is one of the central squares of the city. At the end of it is the Parliament where, with the right timing, you can get a chance to see the changing if shifts of the guards.
• 21 grams (Petraki 10)
Once you're done exploring, head down to 21 Grams; a tiny but atmospheric cocktail bar, amidst a few cute streets, that is owned by people with good taste in music. They also serve coffee in the daytime.
Pangrati
• Kalimarmero
Kalimarmero, also known as the Panathenaic Stadium, has been used for various Olympian ceremonies and is the only stadium in the world built entirely of marble.
+ Local secret: If you go around the back of the stadium there is an alternate entrance there from where you can get on top of the stadium and even walk onto a small hill, quiet with awesome views on the city.
• Hotel Chelsea
In the street of Kallimarmero's back entrance, there is a bar called hotel Chelsea. On summer nights, the outdoor seating is super vibrant and it's a nice place to have a drink that often hosts local DJ's.
• Elvis Souvlakia
When you've done spent all your money on booz, right next to Hotel Chelsea is the perfect spot to get a little budget snack if you get hungry (and are not vegetarian). They have a bomb souvlaki with some bread and fries for only 1,50.
• Superfly (Empedokleous 28)
A bit further down is another bar that serves cocktails, is named after a Curtis Mayfield joint and is entirely in retro-90's interior style. They pay hommage to their name and I have never heard them play a wack song once when I was there.
• Plateia Varnava
In 3-minute walking distance from all these spots, is Plateia Varnava, the central square of the area where you can grab food, drinks, or something from the periptero (greek kiosk). It's like a community meeting point where many locals from the area and of all ages chill on the benches on summer nights.
Local secret: Being from Amsterdam, this blew my mind: you can ask at any of the bars for your drinks to take-away. Instead of glass, you will get your Long Island or Jack on Ice in a quintessential take-away coffee cup. We used to do this and take them down to Plateia Varanava and chill there until early hours.
• Bar The Way (Effranoros 40)
The coffee friendly priced, the cocktails delicious and the jazz music soothing, I like bar The Way for take-away coffees and laptop work.
Exarchia
• nourishment in Exarchia's Κιματοθραύστης (Char. Trikoupi 49)
The ladies here don't speak a word of English, but the quality of the food needs no language. For a humble 4 or 6 euros you can fill your plate from an assortment of freshly cooked, authentic Greek soul-foods.
• Navarinou Park (Zoodochou Pigis 26)
Exarchia is not just any neighborhood, but ran by anarchy. Cobs are not tolerated and expensive cars destroyed. Just down from the food spot, is a small park where you can chill and sometimes student events take place.
+ Local secret: There's a reason they sometimes refer to this place as little Amsterdam. If you would want to obtain or smoke a spliff, this would be the spot.
• streetart in Exarchia + Psirri
These two neighborhoods are great to just wander around as there is streetart on practically every block.
Get away to the islands
• Agistri
With a 1-hour drive and 1-hour ferry you can be right on the island of Agistri. Known as somewhat of a hippie island and embracing that classic Greek island vibe, this is a great place to take a break from the big city life. If you bring a tent and sleeping bag, there's places you can set up shop for free, lie underneath the shade of the trees, and take a morning shower in the beautiful sea there, which is exactly what we did. It was beautiful and I'd recommend anyone to take a one or two night stay there while you're around.
• Spetses
• Ikaria
If you visit Ikaria, you might scout some pieces of my heart that I left there. This island, with its slow yet natural pace of happenings, has left an impression on me like very few places do. It's a longer ferry trip than Agistri or Spetses (7 hours instead of 1), but the ride is well worth it. My friend and talented writer Kristina Headrick, who I spent the week there with, posted this perfect round-up on how to best explore and enjoy the island of Ikaria on her blog Delphi Reclaimed.
Other
• National Library of Greece (Panepistimiou 32)
This row of buildings is great to admire.
• Tiki bar (Falirou 15)
Tiki-style cocktail bar with live DJ sets.
• Dildo tattoo studio (Nefelis 10 , Palaio Faliro)
If you want to get a tattoo during your stay, this is the spot. I got 3 of my ink works here. The crew that works there are amongst the coolest and nicest people I've met in Greece and they are very good at what they do. Oh and they play Wu-Tang in the shop which is mad points.
• Gazi
This is the mainstream clubbing area. Although I wouldn't necessarily recommend it (also 'cause I'm a partypooper), if you end up in this area don't give up too quickly. We asked around for some Hip Hop parties and ended up not returning home until 9 in the morning haha. Extra benefit: you can eat souvlaki's here even at 6 in the morning.
• the hills
There are many hills and mountains in the direct surroundings of the city that are easily accessible by car and perfect places to chill. The views are everything.
• chilling in the house with E-food
In Athens, you can order practically anything from e-food to your door. And with anything I mostly mean: coffee. I'm a sucker for the morning double cappuccino deliveries, the fresh juices and the late-night Nutella crepes. Dangerous habit, this one.
Extra's:
+ corny souvenir shopping is done at Ifestou
If you turn left, you enter what they call the flea market, but what really is primarily a souvernir shopping area. Although nothing crazy (except for that one bead shop that has a dinosaur park in the back; wtf?!), it's a good spot to grab some affordable physical memories of your trip.
Bam, there it is. Wonderful Athens.
You'll surely have a beautiful time there.
I'm sure to return to Athens again sooner rather than later so if you have any more hotspots to recommend, or you yourself are located in Athens and would like to meet up, reach out 🙂
Enjoy! αντίο!