I'd like to introduce you to my new brainchild: the Workshop Canvas.
After carrying the idea for a while, a beta version is here and I'm excited to share with you what the Workshop Canvas is, how it can help you, how to use it, and I'm looking for feedback to understand how it works for you!
It's early stages but I hope to collaboratively develop this canvas into a helpful tool that will make the design work of learning professionals a little bit more inspiring and engaging. I look forward and am open to your feedback, questions, thoughts and ideas on the Workshop Canvas so far 🙂 Without further ado:
WTF is the Workshop Canvas?
The workshop canvas is a visual tool to help you design your workshops, classes, courses and other (educational) experiences.
In my own work as a workshop and educational designer, I was struck by the lack of visual aids and the lengthy spreadsheets I saw most of my colleagues – and ended up myself – using.
Born out of this frustration and inspired by canvasses such as the Business Model Canvas, the Workshop Canvas seeks to offer a more intuitive, iterative and collaborative approach to the design process of educational experiences.
How can I use the Workshop Canvas?
1 Get the Workshop Canvas template.
You can download the Workshop Canvas below and print it on an A3. It works best in combination with the mini post-its. If you prefer, you can also use the file digitally.
DOWNLOAD THE BLANK WORKSHOP CANVAS (A3) HERE (FOR PRINT).
2 Start by filling in the blocks on the left to set the stage for your workshop.
The blocks include: the overall learning objective, the total amount of time available, the title, the audience, the materials, and pre-tasks + follow-ups.
3 Decide on a time measure.
There is a timeline on which you can fill in your own timing. Depending on the duration of your workshop, you can divide your time into 5 or 6 segments – each top-to-bottom column representing one segment of your workshop.
For example: Say I have a workshop of 3,5 hours. We estimate 30 minutes are subtracted because of breaks. With 3 hours of teaching time, each segment will represent 30 minutes. I recommend creating your timeline with pencil so you can edit as you go – when i.e. you add other breaks or realize some segments need more time.
Extra: Within each segment, I would usually spend half the time (in this case 15 mins) speaking, introducing or explaining a concept, followed by a block of processing activities (for another 15 mins).
4 Devise a color coding system.
If you have multiple color post-its, color coding helps you keep a quick overview of what each segment entails. If you only have 1 color, you could consider an icon system.
For example: In the example below yellow represents information and speaking, and blue is for processing activities. The greens are the learning objectives.
5 Start outlining your content.
You read the canvas along with the timeline, from left to right, moving through each segment top to bottom, going through the different elements of content and activities. Each column (top to bottom) represents one segment, aimed at obtaining its specific learning objective defined up top, and occupying whichever time measure you set on.
If you're bubbling with ideas: go! Start writing and outlining those post-its with content and activities and drafting where they might go. Don't get too hung up on their order, as you can keep iterating furtheron. If you don't know where to begin: I'd say start with learning objectives up top, and then think about which content and activities would support them.
And the wonderful thing of post-its is obviously that you can edit, shuffle and re-design as you go and as much as you like. Once you're (mostly) done, you can use the whitespace around the post-its for final notes and to indicate breaks, transitions, etc.
I made one example of a filled-in Workshop Canvas that I think brings it all to life: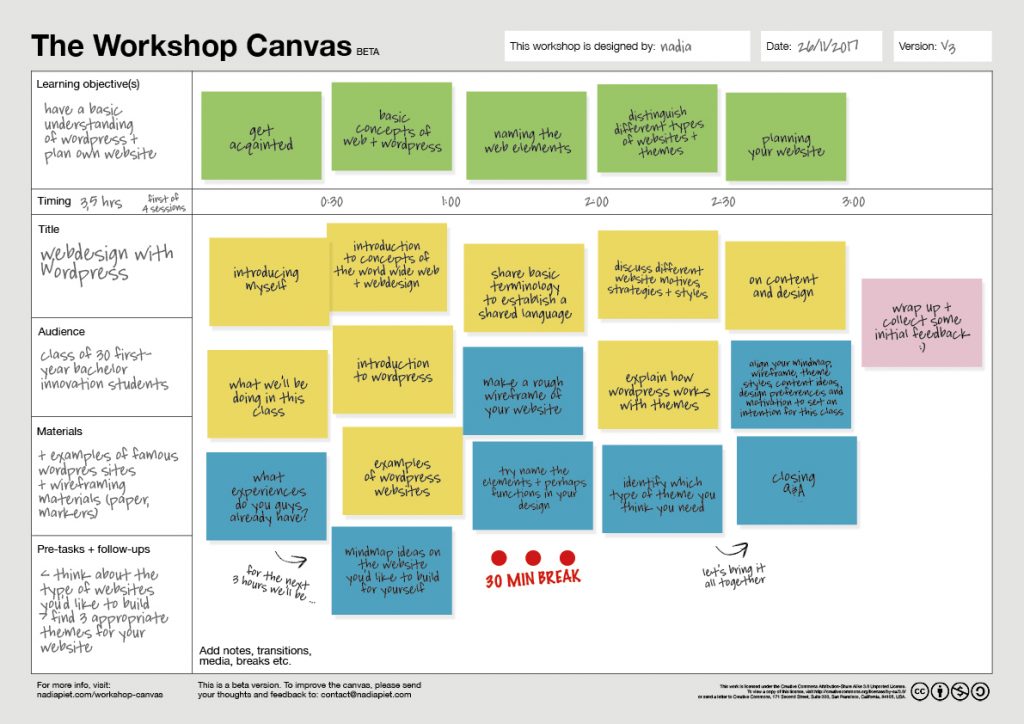 If the completely blank canvas intimidates you, you could also download this workshop canvas with digital post-its already there.
So that's it. Should you have any other questions, I'd be happy to hear them.
After you've given the Workshop Canvas a go, I'd love to learn what the experience was like for you – the good, the bad and the ugly. What worked for you? What didn't? What's missing? What's redundant? Hurdles, ideas, remarks, it's all welcomed. Any piece of constructive feedback will contribute to shaping the canvas into a helpful design tool.
Finally, feel free to share the tool with whoever you think it might serve or be of interest to.
Now, I will let you get to work, and to design awesome experiences.
With love,